Features
Thorncliffe Place is a family owned retirement residence in Ottawa that offers seventy-two well appointed private suites and seniors apartments in a wheelchair accessible low rise building.
Thorncliffe Place offers the following :
Private Suite
Wireless emergency alert system
Large casement windows with custom-made draperies
Individually controlled heating and air conditioning
Telephone, high-speed wireless Internet, and cable TV
Smoke detectors and fire sprinklers
Private mailboxes
Optional private fireplace
Health Services
Professional, registered staff on duty 24 hours/day
Administration of medications
Two person assists
Mechanical lifts
Assistance with feeding
Palliative care and end of life care
Wireless emergency device for each resident
Weekly clinics by house physician
Short-term convalescent and respite stays
Support for residents with dementia
Dietary
Fresh, delicious and nutritious home-cooked meals
Special Textured Diet Requirements
Diet Restrictions: Allergies, Diabetic, Celiac, Low Residue
Strictly following Canada's Food Guide
Snacks and refreshments available 24 hours/day
Afternoon and evening tea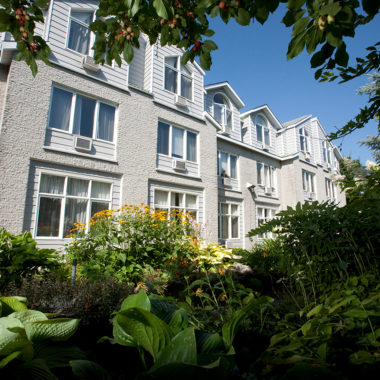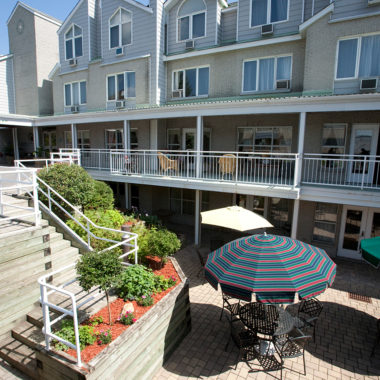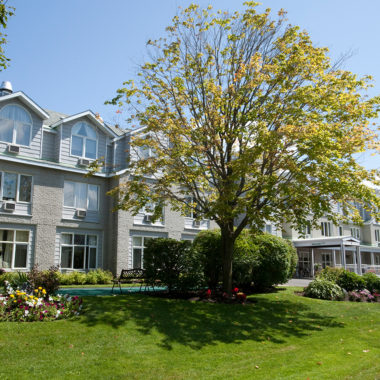 Activities
Live entertainment
Karaoke
Shopping excursions and outings
Exercise classes
Happy Hour
Cards and games
Craft program
Special events
Religious services
Movies and bingo
Book and discussion groups
Themed holiday parties
Supplementary Services and Supplies
Foot Care Nurse
Onsite Lab Visits
Mobile dentist
Dry-cleaning
Daily newspaper
Personal transportation
Specialized medical services, supplies and equipment
Salon and barber services
Manicures and pedicures
Guest meals
Amenities
Activities room for arts and crafts
Tuck shop and bar
Putting green and shuffleboard
Lounges with fireplaces
Library with large print books
Dance floor
16 passenger luxury bus with wheel chair lift
Secure resident storage area
Resident parking with plug-in
Miscellaneous
Housekeeping and laundry services
Fresh towels and bed linens supplied
Dry cleaning
Hair salon
Postal services
Footcare services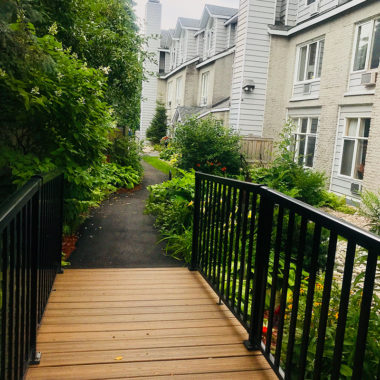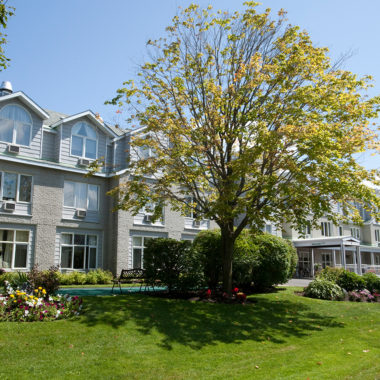 More Thorncliffe Place Features and Services
Thorncliffe Place offers an inviting home with an elegant yet comfortable atmosphere, private suites furnished in traditional décor, optional private fireplace and large casement windows. Every suite has a private four piece bath. Suites are equipped with electric heat and air conditioning which can be adjusted to individual comfort levels. Each room is equipped with smoke detectors and sprinklers for safety.
Each senior citizen resident receives a wireless emergency alert pendant. Every suite has cable TV, a private mailbox and access to a secure storage locker located in the basement. Suites on the second and third floors can be accessed by elevator. Our senior retirement residences features various services which makes you feel right at home in Ottawa.
Thorncliffe Place retirement residence ottawa employs wonderful chefs, who plan and prepare nutritious, healthy, and delicious home cooked meals. The menu offers a variety of fresh seasonal selections and special diets can be accommodated easily. The kitchen provides meal service in two sittings for each meal – breakfast, lunch and dinner – in Thorncliffe's main dining room.
Breakfast
Assorted juices
Cold or hot cereal
Eggs: Served poached, fried or scrambled
Pancakes or waffle day
French Toast
Bacon or Sausage
Yogurt and/or cheese
Sample Menu:
Lunch
Beef Barley Soup or Vegetable Cocktail
Broccoli and Cheddar Quiche with Spring Mix Salad or Turkey Sandwich on Multigrain Bread
Lemon Tart
Dinner
Glazed Ham with Pineapple or Pasta of the Day
Scalloped Potatoes, Asparagus Spears, Butternut Squash, Garden Salad, Dinner Roll
Trifle
Apart from dining and other activities, a variety of services are offered including housekeeping and laundry. Clean towels and linens are supplied each week. Residents may also use laundry facilities which are located on every floor. Dry cleaning, postal and handyman services are also available. Resident parking offers a plug-in for your car. Supplementary services, paid for by the resident, are also available such as pedicures and manicures, barber and salon services, specialized medical services, supplies and equipment, personal transportation and newspaper. Thorncliffe Place is ideally located close to dozens of stores and services. Some stores and services are within walking distance of the residence.
Post Office
Loeb
LCBO
Bus stops
Dry cleaners
Winners
BMO Financial Group
CIBC
Shoppers Drug Mart
Various Restaurants
Tim Horton's
Wallack's Crafts
Staples
The Beer Store
Target
Canadian Tire
Thorncliffe Place provides scheduled weekly activities for residents. The Activities Department offers church services, bingo and movies, cards and games, exercise classes, a book club, a crafts program, discussion groups, karaoke, pet therapy, art shows and a happy hour. Thorncliffe also hosts a birthday party once a month for seniors living in Ottawa that are celebrating as well as holiday parties and special events. Shopping excursions take place twice a week and various outings are offered three times a week with transportation on the facility's wheel chair accessible 16 passenger luxury bus. Residents are reminded of activities each day.
Thorncliffe Place has a library with large print books, a tuck shop, a small theatre, and a hair care studio. There is an activities room, a dance floor and state-of-the-art surround sound in the dining room. The residence also has lounges with fireplaces and a bar. The facility also offers indoor and outdoor shuffleboard courts, a putting green alongwith many other features which will make you feel right at home. Residents can exercise their green thumb in the many gardens surrounding Thorncliffe Place.